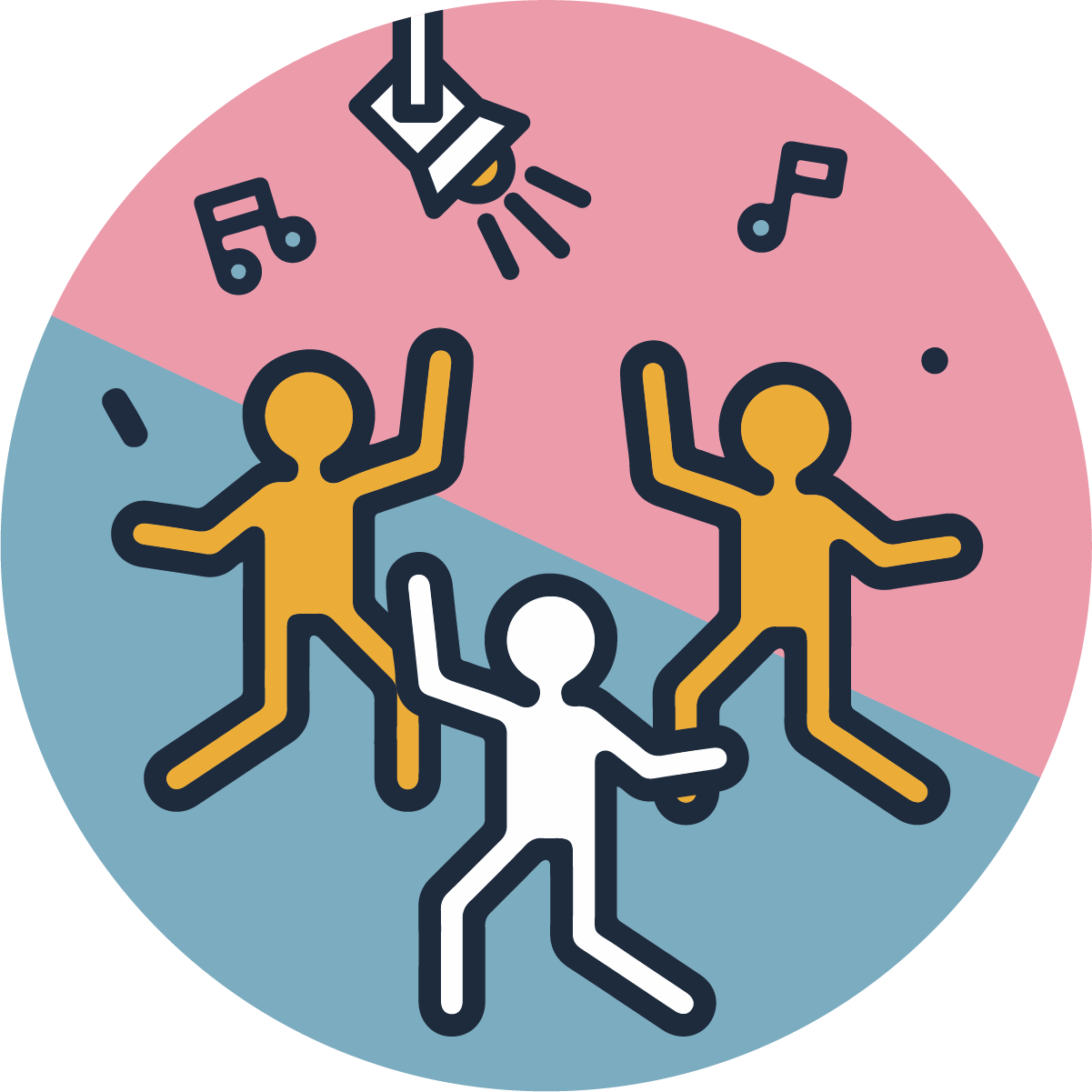 Trilogy Dance Company are Dancing for Sick Kids!
This May, we will be Dancing for Sick Kids! 

We will be dancing for 60 minutes every day from 15th -21st May and aiming to raise a minimum of $1120. This money would cover 7 nights accommodation at a Ronald McDonald House to help a family with a seriously ill or injured child whilst they receive critical care and treatment.
We would love to offer this opportunity to ALL Trilogy students from Tinies to Seniors and encourage you all to share this with your family and friends to get as many donations as we can to help those who need it. 
Please show your support by sponsoring us today. You don't need to wait until we start our challenge to donate. 

On average, it costs Ronald McDonald House Charities $160 to support a family for one night, so please give what you can, every dollar counts. 
More information will become available, closer to the event to plan out our 1 hour of training per day over the week in May. 
Please help us, every dollar counts!
Thank you to our Sponsors
Watsonia Rsl
Apcolorants
The Scarpaci's
Amanda Toward
George Stefa
Lauren Hopkins
Amanda (mummy)
Mummy And Daddy
Lina Brohier
Gillian Brohier
Tina Horton
Ruby-lou & Fisi
Helen Blazevski
Baba Sneza
Trilogy Dance Company
Janet Sciberras
Anonymous
Harley (daddy)
Vlad & Sylvia Kovacevic
Sgs Engineering Pty Ltd
June And Michael Keil
Nancy Zappulla
Nanna Cloe
Fiona Arzenti
Pauline Ciarma
Colleen Ryan
Tayden Ryan
Lara Fraumano
Anonymous
Julie And Alex Mills
Kaitlyn And Paul Godfrey
Harley Ryan
Mummy & Daddy
Sabrina Davies
Manuel Mojica
Favourite Cousin.
Anne Feltrin
Your Biggest Fan
Generous Corporate Partners
Cresp Family
Stella Virgona
Ana And Victor Barrientos
Josie Santini
Maria Stratiou
Sonia Zuccala
Ann Mcinerney
Joseph Pace
Debra Parker
Bruno Costabile
Mummy & Daddy
Charlotte Maraschiello
Judy Yates
Jeremy & Belinda
Carmel Ellul
Nanny J
Jack Friel
Teresa Miceli
Natalie Keep
Monica Scicluna
Andrew Vaccaro
Laura Kmaid
Irma Barrientos
Pamela, Michael & Ethan X
Dianne
Gab Zorko
Young Family
Rhi Tee
Tayden Ryan
Leata
Bianca Berardino
Anonymous
Bianca Berardino
Rita Barbagallo
Paula Bongiorno
Lisa Fisicchia
Lisa Fisicchia
Felicity Hardy
Sienna Suric
Nate, Jairus & Ellie-anna
Cenza Basile
Anonymous
Rocky De Pace
Danijela Blazevski
Peggy Palamo
Peggy Palamo
Tom Barber
Anonymous
Nadia Kettle
Helen Pignatelli
Scott & Lisa Plant
Steph Guvenis
Michael Toward
Fave Auntie, Gracie & George Xx
John Nero
Beverly Wilson
Luke/michelle
Marco & Sofi Xo
Harper
Peter Given
Rose Palamo
Mia Zuccala
Kathy Schwarzer
Christine Cutajar
Belinda Grbevski
Christine Cerasa
Haylee Buzzini
Bec Roberts
Nadia And Gareth Constance
Mary Brincat
John & Linda V
Pam Harmail Kaur
Skye, Leigh, Jack & Evie
Thelma Williams
Jessica Muscat
Dylan Muscat
Kanch Perera
Muscat Family
Tina Garkinis
Tina Garkinis
Nonno & Tonina
Bernadette Paterno
Tiffany Virgona
Jenny Tessari
Universal Corporation
Universal Corporation Pty Ltd
Josh,amy,riley,leni And Indi Haines
Alexandra Voss-smith
Alyssa Romero
Alyssa Romero
Kristy Eddington
Ruth Barnes
Favourite Cousin
Alison Nixon
Ollie Mckinnon
Chloe Johnson
Sarah And Britt
Anonymous
Mike Strates
Ges Deb Z
Jen Buzzini
Malena
Gianni Ciarma
Jess & Toopz Tauapai
Ishtar Haddad
Vanesa Trpcevski
Maryanne Conte
Marilyn & Gino
Fiona Leggiero-christoff
Lidia Lazarev
Christina Di Nello
Anonymous
John, Carmen And Alessia Caruso
Sheryl Bisetto
Christina Di Nello
Tony & Elizabeth
Rachael Goncalves
Kim Maloney
Leanne
Lorraine Kebede
Sam Vertkas
Crissy Dantas Fitzpatrick
Geraldine Barrientos
Michael Combs
Marina Ciavarella
Julie Curd
Georgia Keil
Jennifer Di Blasi
Zia Jess And Zio Seba And The Darcy Family
Libby Petreski
Homsey Family
V Bonacci
Deanne And Waz
Nadia Riva
V Bonacci
Griselda Gallegos
Lisa Saranah
Nancy Zappulla
Catia Lozanovski
Rachel Kelly
Meegan Triance
Rachel Kelly
Rochelle Arena
The Toll Family
Gabriella Manos
Amanda Puopolo
Rose Zappulla
Kat Calleja
Lois Gibson
Carmel Basile
Pina Mamo
Sarah Hughes
Daniela Zappulla
Margaret Cefai
Chloe
Kerry Gray
Kaye, Jess & Michael
Tony, Robert & Nat Garro
Tony, Robert & Nat Garro
Clarissa Garro
Angela Mckenzie
Trish Amore
Circe
Jessica Leopold
Emilia And Billie Palamo
Fiona Leggiero-christoff
Fiona Leggiero-christoff
Susana C.schwindt
Liz Crngarov
Tracey
Julie, Aria & Duke
Frances
Aunty Jojo
Lorraine Sukkel
Nicole Forte
Carla Lotito
Lucchini Cakes & Coffee
Marcela Atanasovski
Marcela Atanasovski
Marcela Atanasovski
Maria Liuzzi-scalpelli
Maria Liuzzi-scalpelli
Merika Smirnios
Homsey Family
Kara Itsines
Stacey B
Anonymous
Daniella Goki Jovanovski
Mcintyre Fam Xox
Jennie Siede
Lucy Costa
Alysia Kinder
Micky
Clarissa Garro
Paula Garro
Paula Garro
Lucy Bailey
Kirsty
Denice Cleaver
Joe & Imelda
Trish Ciarma
Anne Genovese
Sandra Dujela
Tina
Dad
Anonymous
Pauline Flessas
Ranil Perera
Geraldine De Bono
Loretta Paola
Brett & Jessica Gatt
Vanessa Furci
Steve Ryan
Simon & Jaimie Agius
Murphy Family X
Ronnie & Melissa
Fil Rizzo
Sheydin Glynn
Annelise Mirra
Noella Macdonald
Lisa Dimitriadis
Helen Ryan
Privitelli Family
Elena Ciavarella
Paula Ciarma
Chris Belfiore
Alicia F
Yolande
Lisa Resnelis
Nicole Kristiansen
Carolyn Gurrisi
Kellie Waldon
Tanya Stewart
Bree Mcintyre
Ernie Tarantelli
Julie Green
Love From To Tay And Zahra
Dannii Angeloni
Chan Ryan
Denise Trafford
Robyn
Ava Martin
Pina And Carlo Moca
Carlo And Pina Moca And Family
Maria Cassar
Natalie Porco
Vickie & Pino Calabro
Karen Ryan
Meaghan Vounard
Shelby Marton
Bianca Bettiol
Daniel Convey
Erin Brice
Alison Hoffmann
Neil Marshall
Anonymous
Jacqui Ohlson
Gracie Petrolo
Hayley Chilcott
Anonymous
Turner Family
Tracey
Carmel Italia
Anonymous
Laura
Emma Rowley
Marlo White
Loretta Bongiorno
Anonymous