Raised so far

$1,264,196
Nights Raised

7901
People Dancing

5425
Anonymous just donated $36.40
TOMMY ONTKO just donated $25.00
Marion Gambin just donated $57.20
kylie just donated $104.00
Leanne Versteeg just donated $57.20
Sue Luca just donated $36.40
Kareena Newman just donated $36.40
Sign Up!
No matter your dance skill or style, this feel-good fundraiser is for everyone!
Sign up now to receive your Welcome Kit and a chance to win exclusive prizes.
Get Dancing!
Take part by dancing every day during your chosen 7-day period. You'll receive exclusive access to dance tutorials for beginners to advanced.
Make a Difference!
Every dollar you raise will help ensure families with a seriously ill or injured child will have access to a home-away-from-home at Ronald McDonald House.
Choose Your 7-Day Dance Challenge
How much dancing will you take on each day? Remember, these are just suggested times, it's up to you to decide what challenge you are up for!

Baby Steps
30 mins a day
Wake up and dance or shake off the day with an evening dance party! Whenever you choose to dance, it's always more fun with friends or loved ones!

Groove and Move
60 mins a day
Try breaking it up throughout the day, or choose a 'power hour' of dance! Put your favourite playlist on and groove away!

Dancing Queen
120 mins a day
Queens to the dance floor - we see you! Whether you're an expert or just super committed to making a difference for sick kids, we are here for it!
SIGN UP NOW TO WIN!
From the moment you sign up, you'll have the chance to start earning rewards!
Receive 2 donations* in your first 48 hours and you will receive an exclusive DFSK Phone Pop-socket!
Click here to see our full range of rewards and T&C's.
What is Dance for Sick Kids?
Dance for Sick Kids is a 7-day dance challenge for people of all skill levels and abilities.
It is an opportunity to get moving and grooving to help raise funds to support thousands of Aussie families who have a seriously ill or injured child.
It's easy to get involved, sign up to create a unique online fundraising page, throw some shapes and ask your friends, family, and colleagues to sponsor your efforts.
Dance for Sick Kids is specially designed to be suitable for everyone! Whether you're a trained professional, TikTok extraordinaire, or a daggy dad dancer, we've got the challenge for you.
And if you've got two left feet, no problem! Our fabulous Ambassadors are here to help. Throughout Dance for Sick Kids, you'll receive exclusive access to a range of daily tutorials to help get you dancing to make a difference!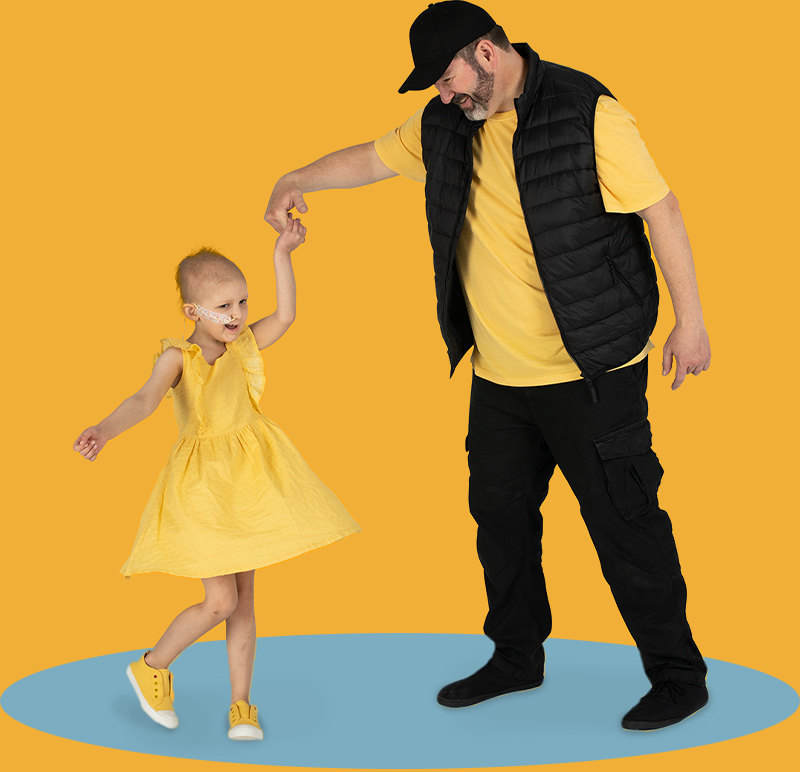 At just four years old Emily was diagnosed with a rare brain cancer and a life-threatening brain tumor. Since then her family has spent 149 nights (and counting) at Ronald McDonald House.
"I think sometimes, as parents, we focus on our sick child who needs the help the most, but we all need help. So that is something I love about the (Ronald McDonald) House, is that we can be together through the journey"
– Jono, Emily's Dad
Look who is joining you on the dancefloor!
The Rybka Twins are dancing to make a difference! They join the list of ever-growing talent that are providing FREE workshops for all DFSK participants.
From ballet to Disney dance, commercial to Bollywood - we have some of Australia's biggest choreographers joining us as well as some HUGE international names you won't want to miss! Click here to see the full list.
Our workshops are designed to be inclusive, we've got styles and levels to suit everyone - from those who have never danced, juniors to advanced.
Twisting, flossing and woah-ing the dance floor away!
Keep up the amazing work and tag us to be featured @danceforsickkids #danceforsickkids